Farming Fast Five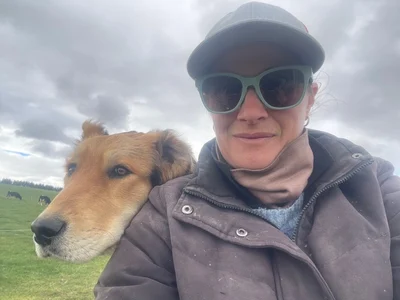 The Farming Fast Five: Where we ask a farmer five quick questions about farming, and what agriculture means to them. Today we talk to Rowena McDiarmid from Oturehua in the Ida Valley.
1.What did your journey into farming look like? (backstory, family connection, or what/who inspired you)
My farming journey started with following my Grand Mother around the farm in Turiwhate, in the Taramakua Valley on the West Coast.
Both of my parents worked full time in their respective jobs, as did my Grandfather.
Nana kept the farm running during the week.
Her strength and bloody-mindedness make me smile and still inspire me today.
2.Tell us a little bit about your farming operation.
The property has been in my husband's family for three generations.
Historically a Sheep and Beef farm, now days more a Beef and Sheep Farm.
It is 1330 hectares of rolling valley floor at the Idaburn end of the Ida Valley.
We have a small irrigation right from the Hawkdun Idaburn Scheme, which we irrigate 150 ha with under pivot.
We also run 150 ha of dry land Techno Bull grazing. (This is my baby and something I'm quite proud of).
The rest of the farm is extensive dry land country, with a range of different pastures, Lucerne to prairie grass mixed with a range of legumes.
3.What challenges have you faced in your farming business, and how have you tackled those challenges?
When Karl and I first moved to the farm commodity prices were pretty awful.
Lambs were worth about $55 each, and we reckoned it cost us about $50 each to finish them. The next year the price dropped to $50/a head.
It was a pretty rough start, but it taught us a lot.
What are the essentials to business, what can you do without?
We always budget for worst case scenario, and try to keep our costs under control and profitability front of mind.
To be fair I think we face challenges every day, some small, some big.
If there is one thing I've learnt over the years, it's to trust each other, and make sure you make time to discuss your options then make the decision and run with it.
Don't look back- hindsight will only give you a headache.
4.What has been a major highlight for you in your farming journey?
It's not much of a highlight, but more something I'm most proud of - is the fact we haven't been scared to innovate.
We have taken chances, brought more land, done irrigation projects, put in the dry land techno unit, sold down our ewe flock.
There have been some big risks in all of this, and some massive learnings, and personal growth, that we would have never had if we hadn't risked anything at all.
The old saying is very true- With risk comes reward.
5. What advice would you have for the next generation of farmers?
Calculate your risks, Trust your partner and build solid relationships with the people who you need to make your business tick.
As told to Claire Inkson