Ecotain plantain blend a good environmental option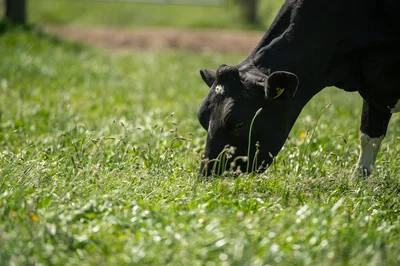 Ecotain, a plantain blend of the cultivar's Tonic and Agritonic, is becoming an attractive option for farmers looking to reduce their environmental impact without compromising on production or stumping the bill for new infrastructure.
Results from research and farm trials have shown that feeding cows Ecotain plantain can reduce nitrogen leaching from dairy farms by 20-60 per cent.
Ecotain works to reduce nitrogen leaching through urine dilution due to increased water consumption, with the herb containing around 30 per cent lower dry matter than perennial ryegrass.
Depending on conditions and the proportion of Ecotain in the diet, animal experiments have shown that, on average, urinary nitrogen concentration decreases by 28 per cent.
Ecotain also affects animal partitioning.
Nitrogen consumed by ruminants is partitioned into different pools, including milk, faeces and urine.
The amount of nitrogen in each out changes depending on the animal's diet.
Compared to perennial ryegrass, when Ecotain is included in a cow's diet, the portion of nitrogen intake partitioned into urine decreases, and the amount portioned into faeces and milk increases.
Ecotain also has a part to play in soil nitrogen retention.
Ecotain can retain nitrogen in the soil, giving plants more time to use the excess nitrogen in the urine patch and reducing loss via leaching and nitrous oxide gas.
DairyNZ chief executive Dr Tim Mackle says the results are exciting and provide robust scientific evidence that Ecotain plantain is an effective solution to help dairy farmers further reduce their farm footprint and continue to play their part in improving water quality.
"Plantain can bring significant benefits to local waterways and communities – we all want healthy freshwater to swim and play in, and dairy farmers can confidently use Ecotain plantain on-farm to support that," Mackle said.
The results are from the DairyNZ-led Plaintain Potency and Practice (PPP) Programme and include Massey University and Lincoln University farm trials.
The PPP Programme is a $22 million seven-year project funded by DairyNZ, the Ministry of Primary Industries through the Sustainable Food and Fibre Futures Fund, PGG Wrightson's Seeds and Fonterra.
by Claire Inkson