Dairy industry employs 10% of the Ashburton district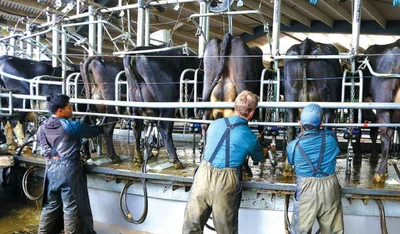 The dairy sector is one of the major providers of employment in the Ashburton district.
Dairy industry jobs account for 10.5% of employment in Mid Canterbury - more than one in every 10 jobs.
According to a new report on the dairy industry's contribution to the New Zealand economy Ashburton comes tenth in New Zealand for its reliance on dairy jobs.
Waimate tops the list at 33.5% of all jobs followed by South Taranaki (26%) and Westland (22.3%).
The report, commissioned by DairyNZ and the Dairy Companies Association of New Zealand (DCANZ), highlights the importance of the dairy industry in New Zealand.
The dairy sector paid $3.6 billion in wages across New Zealand in the year to March 2023. A total of $1.4 billion came from dairy farming, up 20% since 2019. The balance is wages from dairy processing, which has increased by 24% in the last four years.
The dairy farming median wage has grown an average 9.5% between 2019 and 2023, outpacing average wage growth of 5% in the wider economy. The median dairy farming wage is $59,000 – the same as the median wage for all sectors.
DCANZ executive director Kimberly Crewther Dairy accounted for one in every four export dollars earned by New Zealand.
The value of dairy exports grew 45% in the past five years and generated nearly $26 billion in export revenue for the year to April 2023 and accounted for 35% of goods exports.
The dairy industry helped support the national economy through the pandemic, she said.
DairyNZ head of economics Mark Storey said the spread of farms across the country allowed the dairy industry to support regional economies and maintain some local spending even when milk prices fell.
"Despite lower milk prices, dairy farmers will continue to hire staff and purchase essential supplies to run their farms," Storey said
by Sharon Davis