Convoy hopes to sway votes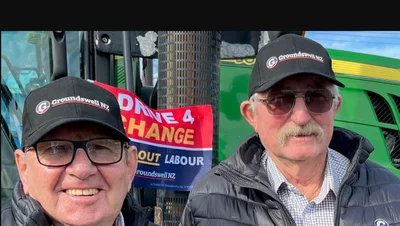 Groundswell NZ's Drive for Change convoy is rolling its way from Invercargill to Auckland in the hopes of swaying votes away from the Labour Party.
The message from the farmers' lobby group is that things are bad for farmers and they'd like people to vote for change.
Groundswell co-founder Bryce McKenzie said the group had no particular party affiliation or preference.
"We just don't want what we've got at the minute."
He said the latest Federated Farmers survey (not connected to Groundswell) showed that farmer's morale was the worst it had ever been.
"We just want a change of government," he said.
McKenzie and other Groundswell co-founder Laurie Paterson left Invercargill on John Deere tractors early on Friday leading a convoy of farmers and tradies - despite flooding that sparked a region-wide national emergency in Southland.
With State Highway 1 closed between Mataura and Gore, the convoy will be following the official detour route.
They will drive to Timaru for an overnight stop on Saturday and plan to arrive at the Ashburton Domain on Walnut Avenue at 11.30am on Sunday before continuing up to Auckland.
The latest protest is a continuation of Groundswell's protest action against what they call "unworkable conditions" for farmers.
Groundswell grew out of a tractor rally by disgruntled farmers in Southland in 2020 and, according to its website, now represents "an authentic rural voice" of volunteer farmers and rural professionals.
However, the group has come under fire for calling for changes that can't realistically be achieved, and as representing an angry and vocal minority within the farming sector.
McKenzie denied that Groundswell as a minority. He said that the group had more than 100,000 people signed up on its email list and a "massive" following on social media.
He said Groundswell was not against regulation, but wanted the regulations to be workable.
Groundswell is best known for convoys of tractors and farm vehicles for two nation-wide Howls of Protest in 2021 against various regulations.
The lobby group attracted negative press in 2021 when some of its rallies were hijacked by anti-vax campaigners - and again in 2022 when it implied several of the more established farm lobby groups were in the Government's pocket.
For this protest they hope to highlight the need for a change of government in the upcoming election.
The Ute tax, reforms to the Resource Management Act, Three Waters reform and new freshwater, indigenous biodiversity, climate change and emissions regulations are among the list of things it hopes to change.
McKenzie said low-slope map regulations, land use classification and emissions tax on methane were the top three regulations he'd like to see addressed.
"Methane's warming potential was overstated by 300 - 400%." McKenzie said he wanted "real science" used to develop emissions regulations.
Groundswell's latest convoy will finishes at the Ellerslie Racecourse in Auckland at 1pm October 1.
Mid Canterbury Federated Farmers president David Acland said the convoy showed there was a level of frustration felt by farmers.
"People are trying to articulate that frustration - and their displeasure with the current government - to the public."
Acland said he personally expressed any frustrations through his work with Federated Farmers, dealing with local, regional and central government on any issues to get the best outcome for members and farmers.
He said everyone was free to articulate their frustrations. "That's what democracy is all about - and why we have elections."
Acland encouraged protestors to be respectful of other road users - and of people with different opinions.
by Sharon Davis