Cates celebrates 50th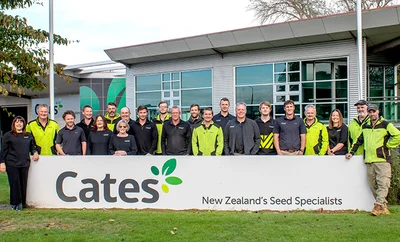 Mid Canterbury grain and seed company, Cates, hit a 50-year milestone last month.
Cates was started by Peter and Jocelyn Cates in April 1973.
Since then it has grown into a household name in rural Canterbury, becoming an important business partner for farmers and a link to the global seed trade.
General manager Stuart Begg said 50 years in business was a great achievement, and something the company and staff were very proud of.
"Our business has been built on the strength of our people.
"They bring skills, knowledge and a genuine commitment to our clients and industry."
However, the 50-year milestone was only possible with the ongoing support of the local farmers and clients, for which Cates was grateful, he said.
"We are very proud of our history, but also continue to focus and plan for the future in both our domestic and international markets, to ensure we are here for at least another 50 years."
While Cates planned to expand to meet the growing global demand for New Zealand-grown seeds, Begg said the company remained fiercely proud of its origins and the relationships it had built over generations.
Fast facts:
Cates supplies locally-grown cereals, pasture seeds and pulses to international markets.
It also specialises in seed multiplication, domestic supply and onsite crop advice.
Cates is one of the few grain and seed companies in New Zealand with its own research division.
It also has a seed processing plant and storage facility in Rakaia.