Award winner, looking for a way to help farmers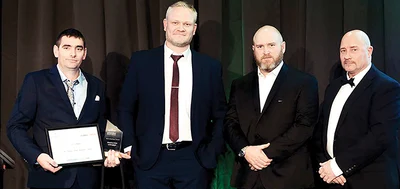 The Keith Andrews Innovation Award winner at the 2022 NZ Groundspreaders Awards, Jon Jackson, is all too familiar with the innovator's journey of trial and error.
The Ashburton agricultural contractor (Jackson Spreading) is aware of the knockers and naysayers, but he rose above all of that, because of his desire to do things better, smarter, and more efficiently.
This drove him to realise his vision and improve things for the benefit of all in the ground spread industry.
Jackson's wife's grandmother cut out an article in the newspaper about a new machine being developed that utilised two key technologies to get more out of fertiliser and reduce losses to the environment.
He flew north to take a look, worked with the company to meet ground spreader demands and is now an ambassador for the technology, promoting it to his peers and farmers alike.
Jackson is highly regarded by his fellow ground spreaders for his selfless ambition and his knowledge. His expertise is of immense value to the ground spreading sector.
So why did you win the award?
"For innovation, so we used crop spec cameras which look at the rate of fertiliser that our trucks apply.
"It decides how much nitrogen is in the grass and then applies it so that there is no wastage.
"Then we have a machine called Spkiey which detects the urine patches and harvests the nitrogen out of these. This reduces leaching so it doesn't get down into the water table.
"These are two very new pieces of technology that not too many people have tried."
The crop spec cameras have been around for a wee while, he said.
They are mostly used on crops and Jackson needed to do a trial on New Zealand pasture.
He did this with Agritech and a whole bunch of partners and got a peer review paper out of it.
"We were the first organisation to use these cameras on pasture commercially– that was pretty cool!"
Spkiey has been around for a while and just needed someone to take it up. The first machines weren't good enough to be commercial machines, Jackson said.
Now he has a commercial machine which is high capacity.
"We have had the fertilising spreader trucks now for nine years and pretty much with N-caps and the government enforcing its rules and regulations (they keep moving the goal posts) we were looking for a way to help the farmers.