Above average is no good for rugby or farming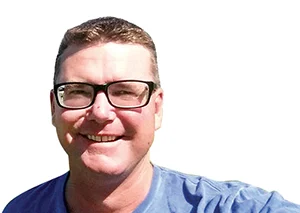 Earlier this year, Opposition leader Christopher Luxon famously said that New Zealanders need to back its farmers like it backs the All Blacks. I assume he meant farmers' successes should be applauded and viewed with pride, but if he was saying farmers should be told how to do their jobs by people sitting in front of their televisions then I think we're already there.
The problem with Luxon's sporting analogy, aside from the fact the New Zealand public are very quick to turn on the nation's rugby team after a poor performance, is that farmers tend to think they're a world cup winning All Blacks team from a golden era, and the public sees them as a totally different side.
I was reminded of this comparison while attending a Fonterra roadshow to discuss the Cooperative's focus on reducing on-farm greenhouse gas emissions. Many of Fonterra's customers are looking to lower their own carbon footprint, and one way to do that is by buying ingredients that also have a low footprint. The fastest way for Fonterra to give their customers what they want is by reducing on-farm emissions.
An audience member asked why Fonterra was concerned about these emissions when New Zealand dairy farmers were already the most efficient in the world. In fact, according to a recent DairyNZ study, our milk has a carbon footprint of less than one-third of the global average. Clearly this gentleman viewed himself as a member of the world cup winning All Blacks and not the "bundled out at the quarter final stage" variety.
The answer from Fonterra chair Peter McBride was brutal and honest; being better than the average producer means nothing. Customers like Mars, makers of M&Ms confectionary, do not care that our milk is more carbon efficient than that produced in sub-Saharan Africa. They only care that it's better than the next most efficient producer, because once that nation overtakes New Zealand in carbon efficiency that's who Mars will buying their ingredients from. After all, the 2007 All Black team was better than every other team in the world, except for the three teams that finished ahead of them at the rugby World Cup.
The All Blacks are at their greatest when they innovate and adapt, when they study the changes to the rule book and make the new laws work in their favour. New Zealand farmers, too, have a history of adaptation and innovation, it's what earned us the mantle of being the best farmers in the world and it's the only thing that can keep us there.
Make no mistake, other countries are breathing down our neck. Just last year Ireland won their first rugby test series in New Zealand, and they are dead serious about duplicating that achievement in the dairy export market. This drive for carbon efficiency is not isolated to New Zealand, it is a worldwide phenomenon and Kiwi farmers risk being left behind if they don't give the market what it's asking for. As a country that exports 95% of our dairy products, our dairy industry's survival rests on tailoring our products to customer needs. American states and European governments are pouring billions into helping their dairy farmers become more carbon efficient, and New Zealand won't stay in the lead unless we adapt to the new style of play.
Milk processors around the world, not just Fonterra, are setting clear expectations for their farmers; the export market wants low emissions ingredients, and we need to deliver it. I just wonder how long it will be until those processors take a leaf out of a rugby coach's book and decide that, despite their best efforts, some players just aren't cut out to perform on the world stage and the only course of action is to bench them.
by Craig Hickman