22 ploughers turn a furrow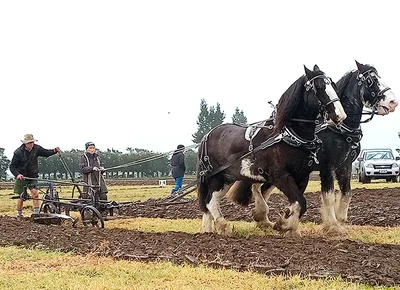 A new class to encourage young people into ploughing was one of the drawcards at the Mid Canterbury Vintage Machinery Club ploughing match.
A total of 22 ploughmen and women lined up in cool and cloudy conditions at Mathew and Julia Paton's farm in Wakanui on Saturday.
Entries were across five classes, including a new contemporary class for people to upskill and to encourage young people into the ploughing scene, club secretary Keith Howden said.
"A couple of older experienced ploughmen were with this class, mentoring them and passing on their knowledge."
There was an occasional patch of light drizzle, but as the easterly wind didn't get up it wasn't unpleasant, he said.
"Moisture levels were ideal for ploughing but the ground conditions were a little challenging, testing the skills of those turning a furrow."
Considering the cool weather there were a good number of spectators and the seagulls flew in as well, adding to the atmosphere of the day, Howden said.
Matt Ridge won with silver plough class, with Tryphena Carter and Warrick Seaton placing second and third respectively.
Tim Boag ploughed his way to the winning spot in the new contemporary class. Ollie Maw came second with Will Paton third and Hamish Paton fourth.
The vintage plain ploughing class was won by Bob Mehrtens.
Bruce Graham placed second, Colin Boon came third and Dave Allan placed fourth.
David Hight won the vintage open.
Malcolm Cretney placed second, with Geoff Corbett in third and Robin Holmes placing fourth.
John and Sharon Chynoweth won the Rural News horses class with John Booth in second place.